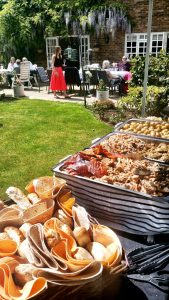 Thanks for visiting Hog Roast Telford, the premier provider of succulent and delicious hog roast catering in Telford (and in all surrounding areas). If you're planning the catering element of your next event and if you think that hog roast catering could be the answer, you've come to the right place. We hope you find all the information you need, but please do contact a member of our friendly team today if you have any specific questions about our services – we pride ourselves on delivering a bespoke that strives to go the extra mile in delivering an outstanding service.
About Our Hog Roast Party Catering Services
We like to think that the enticing aromatic aromas and juicy moreish flavours of hog roast catering go hand in hand with almost any event or celebration. With more than 10 years of in-field catering experience, our hog roast team is ready to help you deliver a group dining experience that will live long in the memory of your guests for all the right reasons.
Events that we cover include:
Wedding day catering
Birthday parties and garden parties
Corporate events and training days
We understand that you may be planning an indoors event and that you may be wondering if hog roast catering is suitable. The answer is that we offer both indoor and outdoor catering services. Our hog roast machines require very little space, and all serving tables and gazebos are of course optional. This means that if you are only able to provide a small corner of a social club or village hall, we are still able to deliver the same exceptional service.
Local Produce from Trusted Vendors
We're proud to have built a strong working relationship with local farmers and other trusted vendors of delicious local produce. Over a period that now spans more than a decade, our chefs here at Hog Roast Telford have helped our customers to treat their guests to seasonal meats and vegetables that can't be beaten on quality.
Add Menu Items with Hog Roast Machine Accessories
Roasted hog meat is the central feature of our catering services. However, we also offer a range of hog roast machine accessories that can help you to boost your menu. These popular accessories mean that you can offer your guests a broad selection of fingers foods between delicious main courses of hog meat.
Hog roast machine accessories:
BBQ Grill – With our specially designed BBQ accessory, guests can be treated to burgers, hot-dogs, and all other BBQ foods throughout the day.
Spit Roast – The sit roast accessory is capable of roasting up to 36 large chickens at once. Or, if you prefer, choose sides of beef, legs of lamb, or even large fish.
We hope that you have found all of the information you need to help you in choosing Hog Roast Telford as the expert catering team for your next event or celebration. Remember, all of our services are tailored to suit your plans and your budget – contact us today to tell us your thoughts and to find out how we can help.